Welcome to Shandong Xingdou Intelligent Equipment Co.,Ltd.
Company information:
Shandong Xingdou Intelligent Co., Ltd is a professional manufacturer and exporter.
Our products are

construction lifts, tower crane, suspension platform and Car parking system,We can do OEM

for Our customers
1. 10 years more manufacturing experience and 7 Years exporting experiences,
2. Great technician Team with innovation and improvement alibilties
3. Zero accident record and good feedback from enduser
4. Best price offered with special discount, high quality you can enjoy.
5. Fast response with sales and after-sale service
6. Welcome agent or distributor all over the world for cooperation partnership.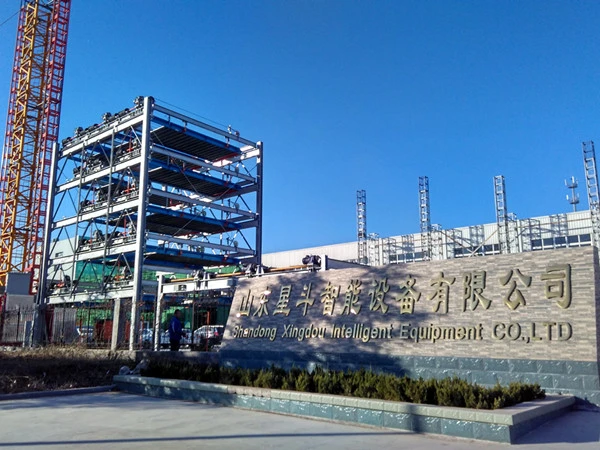 Production description:
1. construction lifts could be design according to different building situation.
2. With ISO9001, CE, SGS, BV, SASO certifications
3. Double or Single cage with loading capacity from 500kg to 3000kg.
4. With Frequency Inverter or DOL control system with low speed, MID speed, and high speed
5. All Production Line adopt special fixture, mould, gauge made by us to ensure all detaile size.
6. Select high quality raw material from China Bao Steel Group, other like motors, reducers, gearbox, safety
device with low noise, electrics is schneider or Korea repute brand with reliable quality.
7. Special design, compact and reasonable structure, easy to installation and adjustment.
8. Each equipment should be test and make record in Factory, all details will be adjust like
Motor brake, safety device operation, all limit switch operation, dropping test, loading test, and mast section
erection test to ensure the completed equipment run well when taken into use.
Characteristic

Model

Rated Loading

Lifting Speed

Motor Power

Double cages

SC200/200

2x2000kg

33m/min

2x(3x11kw) / 2x(3x8.5kw)

SC150/150

2x1500kg

33m/min

2x(2x13kw)

SC100/100

2x1000kg

33m/min

2x(2x11kw)

Single cage

SC200

2000kg

33m/min

3x11kw /3x8.5kw

SC150

1500kg

33m/min

2x13kw

SC100

1000kg

33m/min

2x11kw

Double cages

Low speed

SC200/200D

2X2000kg

0-40m/min

2x(3x11kw)/2x(3x8.5kw)

SC100/100D

2x1000kg

0-40m/min

2x(2x13kw)

Mid speed

SC200/200Z

2x2000kg

0-60m/min

2x(2x23kw)

SC100/100Z

2x1000kg

0-60m/min

2x(2x15kw)

Single cage

Low speed

SC200D

2000kg

0-40m/min

3x11kw /3x8.5kw

SC100D

1000kg

0-40m/min

2x13kw

Mid speed

SC200Z

2000kg

0-60m/min

2x23kw

SC100Z

1000kg

0-60m/min

2x15kw

Product Details:
A.Producing process:
Strict material selection- blanking- inspection - welding-inspection- Blasting - inspection -Baking finished or galvanized- inspection -Finished product
The product can be customized according to customers'requirements (drawing, specifications and so on).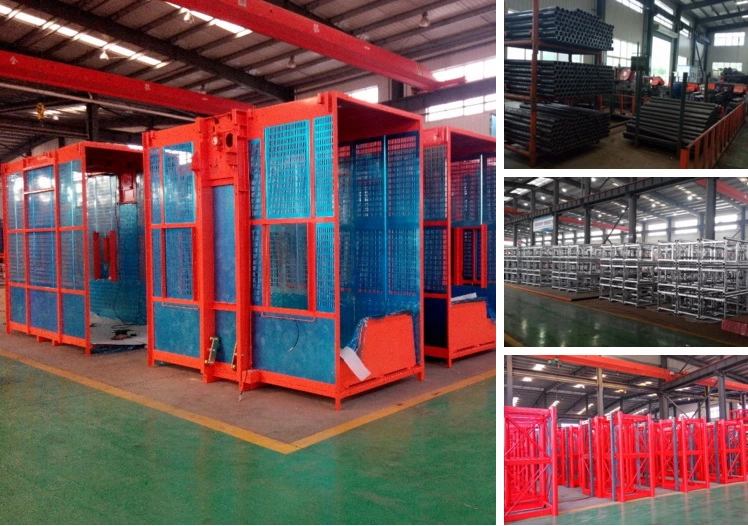 B. Special design for construction lifts
The cage is boarded up by all punched aluminium sheet (anti-aging, anti-rust, lightweight and beautiful) or punched steel sheet (stable). The main structure of cage is made of high quality steel after bending. The bended steel is firm, stability, moreover it can ensure stability for the whole structure.
1. Bottom and roof of cage adopt trapezoidal frame. Bottom and the roof are full symmetry.
2. The plane of symmetry are connected by Bending plate, bending channel and square pipe which make it
firm, straight and balance in use.
3. The wall around cage can be fixed by punched aluminum plate, punched zinc plate, punched steel plate,
steel wire mesh.
4. Surface treatment: blasting, baking finished, galvanized.
(Optional Size:3x1.5x2.1m, 3x1.3x2.1m, 3.2x1.5x2.1m, 3.2x1.3x2.1m, 3x1.5x2.4m, 3x1.3x2.4m,
3.2x1.5x2.4m, 3.2x1.3x2.4m etc.)
(lift,elevator) :The cage can be customized according to customers' requirements (drawing, specifications and so on).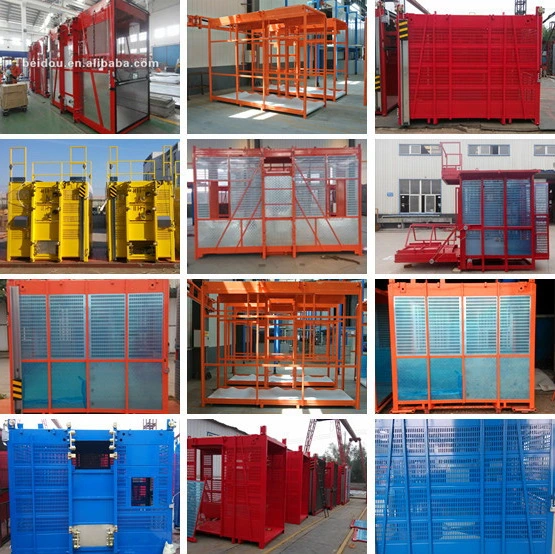 C. Mast section with rack for construction lifts
I: About the mast section:The Mast section (color is variable) is made of seamless tube or HF welded tube.
1. Steel plates are bented of U-shape to strengthen the mast section.
2. Mast section with galvanized coat or heat spray coat can be chosen.
3. High quality steel plate Q345B bended by special machine: Thickness 4.5mm.
4. Welded steel tube Q345B and seamless steel tube 20# are also available: Ø76*4.5mm or Ø89*4.5mm
(Thickness of 6mm or 8mm is also available).
5. 650*650*1508mm is the most common size fits for clients. Other model of mast section can choose:
450*450*1508mm, 650*900*1508mm,800*800*1508mm
Construction elevtor/lift/hoist for korea and Vietnam The mast section can be customized according to customers' requirements (drawing, specifications and so on).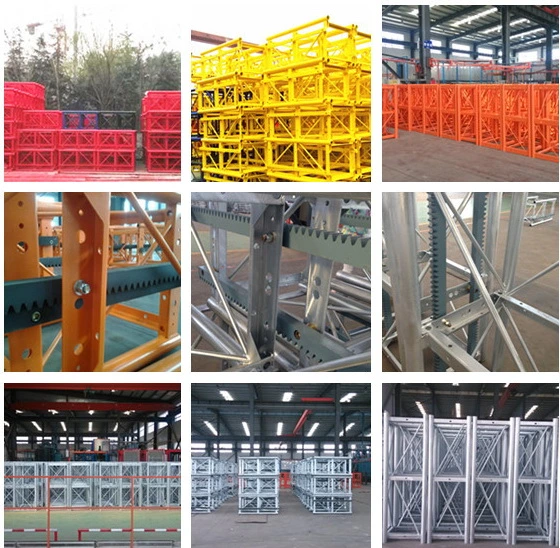 II: About the rack:
1. Model: 40*60*1508mm, or 40*60*1483mm or OEM according to drawing or sample.
2. Materials: CL60 special rail steel, 60# high quality carbon steel (common use) or other type C55,C50,
C45 according to your requirement.
Building hoist/building construction elevator/construction material hoist
The rack can be customized according to customers' requirements (drawing, specifications and so on).
Company Show: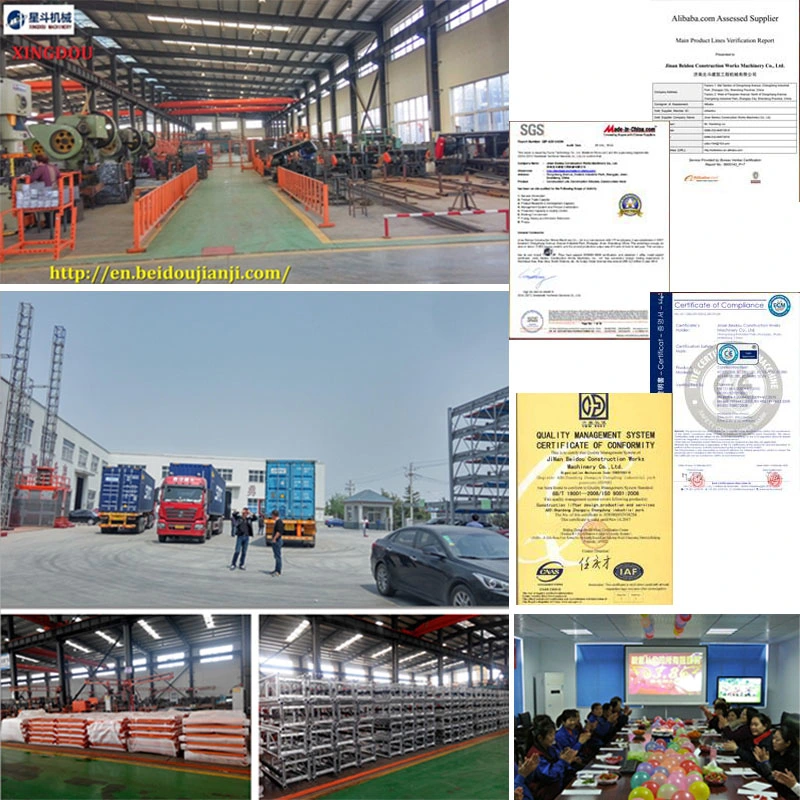 Safty Measures:
1. Equipping with Anti-falling governor
2. Electrical an Mechanical interlock: Door safety switches, Slack rope switch
3. Safety hook
4. Upper and bottom limit switches, trap door limit switch
5. Overload protector
6. Bottom Buffer
7. Level Calling system and auto leveling device to be choose.
8. Ramp door for (Ex.door of cage).

FAQ
1. What are your main products?
We produce construction hoist (also called construction elevator, construction lift) and spare parts of it.

2. Are all construction hoists the same from all Vendors & Manufacturers?
Our construction hoist has been improved better than some others. Firstly, the mast section stulls are changed to U-shape structure, the diagonal bracing adopt solid round steel instead of hollow. So the mast section becomes more stable than the old type. Secondly, in the configuration, we adopt famous brand motor special supply for Beidou, Schneider electric and Huaye Rongcheng brand gear reducer.

3. Do your products have some certificates?
Yes. Our products have CE, ISO and BV Certificates.

4. What are the payment terms and the delivery time?
Payment terms are T/T and LC. We will ship the cargo within 20-30 days after receiving the 30% deposit.

5. Are you manufacturer or the trader?
We are manufacturer,have our own factory and Research and development team.

6. Will you develop distributor and sole agent?
Yes, should you have any interest to be our distributor and agent, please let us know in any ways. Sole agent is available depend on the sales turnover.

7. Where do you ship to and what countries have you done business in?
We provide quick and efficient shipping to countries all over the world from Qingdao port.
We have done business with customers in many countries, such as Brazil, Korea, Malaysia, Thailand, India, Vietnam, and Indonesia etc.
8.Quotation request:
If you are interested in our products, please provide the following parameters:
1) Lift height (m)
2) Load capacity (ton)
3) Double cage or single cage
3) Local power supply (kV, Hz)
4) Other special equipments
We will provide best price once confirmed the above.
Contact us

You can get high quality products and professional service from us.
Any question from you is welcome and will get reply within 24 hours.